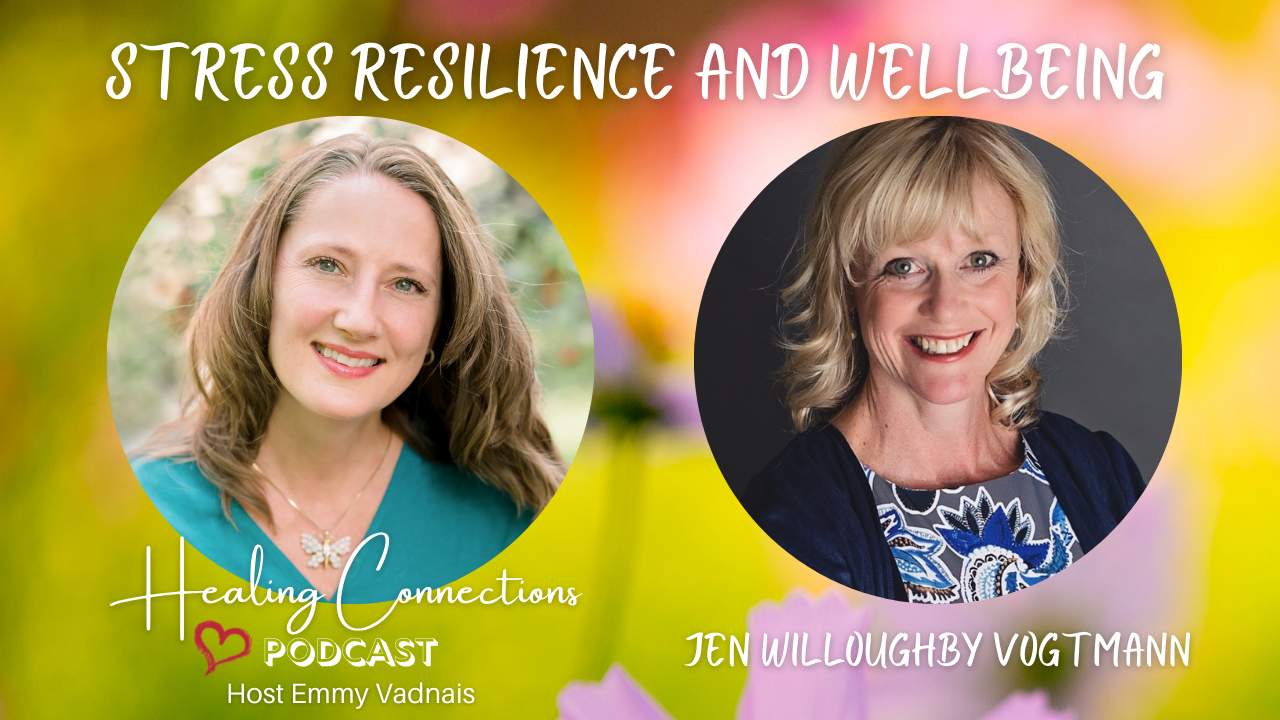 Stress Resilience and Wellbeing
Jen Willoughby Vogtmann, OTD, OTR/L was interviewed about "Stress Resilience and Wellbeing" on the Healing Connections Podcast episode 54 on 1/12/22.
Jen Willoughby Vogtmann, OTD, OTR/L shares findings from her recent research study that was co-authored with Ingrid Provident, EdD, OTR/L, FAOTA, "Building Stress Resilience and Wellbeing: Introducing Mindfulness Training to Reduce Stress in Entry-Level Occupational Therapy Students."
This study was statistically significant with helping participants (OT students) lower their perceived stress levels. Occupational Therapy students were able to feel more calm, engage more mindfully in every day activities, and be able to respond vs. react in situations. Students requested that meditations accompany the beginning of each class. She hopes to see calming activities, such as meditation, breath work, and mindfulness incorporated into occupational therapy curricula and all school programs. She shared evidence that children as young as pre-school age can begin using these activities to build stress resilience and wellbeing throughout life.
Jen Willoughby Vogtmann, OTD, OTR/L, is an Occupational Therapist, Reiki Master and Teacher, and Associate Professor in the school of occupational therapy at Baker College with 18 years of clinical practice. She teaches Complementary Therapies, Wellness, and Occupation. Jen has a private practice and blends her Holistic Healing Training into her services. She is passionate about incorporating energy healing, guided imagery, mindfulness, and inquiry-based stress reduction techniques into her health and wellness coaching. She honors each person's own vision of spirituality when promoting health and wellness. She is passionate about building a mindful community of occupational therapists and healers. After dealing with the death of her own father, stepmom, and her husband's parents, Jen recognized a void in services and identified a growing need for OT's to support engagement among people living with life limiting illnesses and their families. As a result, Jen specializes in wellness, aging in place, legacy building and end-of-life plans well in advance for clients in her practice. Emmy Vadnais, OTR/L is an Occupational Therapist, Intuitive Healer, Integrative Health Practitioner, Health Coach, teacher, consultant, and writer. On her Healing Connections Podcast she shares information and interviews thought leaders and health care practitioners about integrative health, wellness, spirituality, intuition, and consciousness.