On the Healing Connections Podcast, Emmy Vadnais, OTR/L interviews thought leaders and health care practitioners about integrative health, wellness, prevention, spirituality, and consciousness.
Listen to Healing Connections on YouTube, ApplePodcasts, and Spotify.  
Meaning Through Service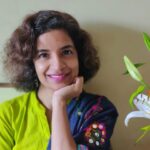 Emmy Vadnais, OTR/L interviews Reena Singh, Holistic Occupational Therapist about "Meaning Through Service" on the Healing Connections podcast episode 29 on 6/1/21.
Reena shares how her family's influence and religious practices of Sikhism encouraged her to seek and follow service. She describes how she receives when she gives, and the process of service helps her to discover herself. Reena is a Holistic Occupational Therapist and founder of the Khushi Therapy Center based in Mumbai, India. She believes that the mind and body are connected and sees challenges from a whole person perspective. She combines complementary therapies and integral health techniques in her practice to help her clients at a deeper level.
She has worked with neurodiverse kids and their families for 21 years, and is the author of two books: "Little Parenting Guru" and "Looking Beyond Labels…Becoming a Mindful Parent." Her strength lies in blending her role as a parent and a therapist to offer the best practical strategies to support families who come to her. Music by Steven C. Anderson. Visit her website at https://khushi.net.in/ and her YouTube channel at https://www.youtube.com/c/ReenaSingh/featured