We have enjoyed a warmer than usual Fall Season here in Minnesota. The garden is mostly put to bed for the winter, but there are still some carrots, beets, chard, and kale awaiting picking, and a few snap dragons sharing their delight. Daylight savings and the calendar on the wall tell me that Thanksgiving is coming up quickly and Christmas is just around the corner.
So, we need to plan the meals, decide who's coming and going where… and then there are the gifts. Do I make them, buy them, or offer a talent or service?
I have started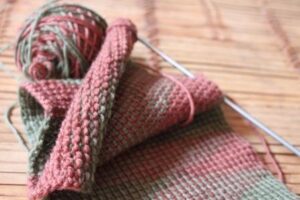 making my husband a scarf. I'm still finishing a blanket from last year, and then ideas of other gifts I could make flood my head.
In the face of extra demands, cold, and darkness it is imperative that we take extra good care of ourselves. What does this mean?
Well for starters, lower the stress levels for yourself as much as possible. This may mean limiting how much you do in a day. Be realistic about how much you can bite off. Take time to plan your activities and space things out, so you're not doing everything all at once. Ever shopped for presents on Christmas Eve? I have! Kinda' stressful.
Most of us will have family gatherings. We may not always like some of our family members, or the things they do, or don't do – or we may be missing loved-ones who've passed on. This can amplify the stress. The yummy treats and extra food that abound i.e. cocktails, cheese, cookies, fudge (I love fudge), and other delectables may give us immediate comfort, but later discomfort and perhaps self-disgust.
Consider taking some time to honor what you are feeling and your emotions that may be stirred at this time of year in a mindful way – observing them, accepting th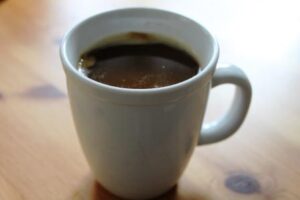 em, and bringing love and compassion to yourself.
Notice the tension you may be carrying in your body and consciously drop your shoulders and deepen your breath in to your belly from your chest.
Consider creating space to relax in the tub or sit on the floor and gently stretch your body, or sip on some tea or hot apple cider to keep your body warm, your muscles relaxed, and your mind calm.
When I was joyously, however prolongedly, creating my masterpiece of a scarf I started to feel the tension rising in my hands, biceps, and forearms. I stopped, stretched, and went back to stitching. The next day, I further felt the tension up in to my shoulders (trapezius, for you anatomy whizzes), felt fatigue, and was intimately reminded of the Mind-Body Connection. My body was telling me to pay attention to it and I listened. So, I did more stretching (less stitching for now), and took some time for some Yoga. Elongating the muscles and opening the energy channels, that often get constricted at the joints, was just what I needed. My fatigue lessened and I felt like I was getting my energy back. This will make my immune system stronger so I can stitch on and stay well for all of the upcoming activities.
Take time to pace yourself or slow down. As you listen to your body and respond in the best possible way, whatever that is for you, you will be less likely to become sick and more able to enjoy the Holiday Season. Here are a few Holistic Tips and Meditations that, when practiced regularly, may keep you feeling well and enjoying life – and maybe even the Holidays!
Please contact me to assist you staying well in Mind, Body, & Spirit.
Emmy Vadnais is a Holistic Occupational Therapist and Intuitive Healer who can be contacted at emmy@emmyvadnais.com or 651-292-9938.