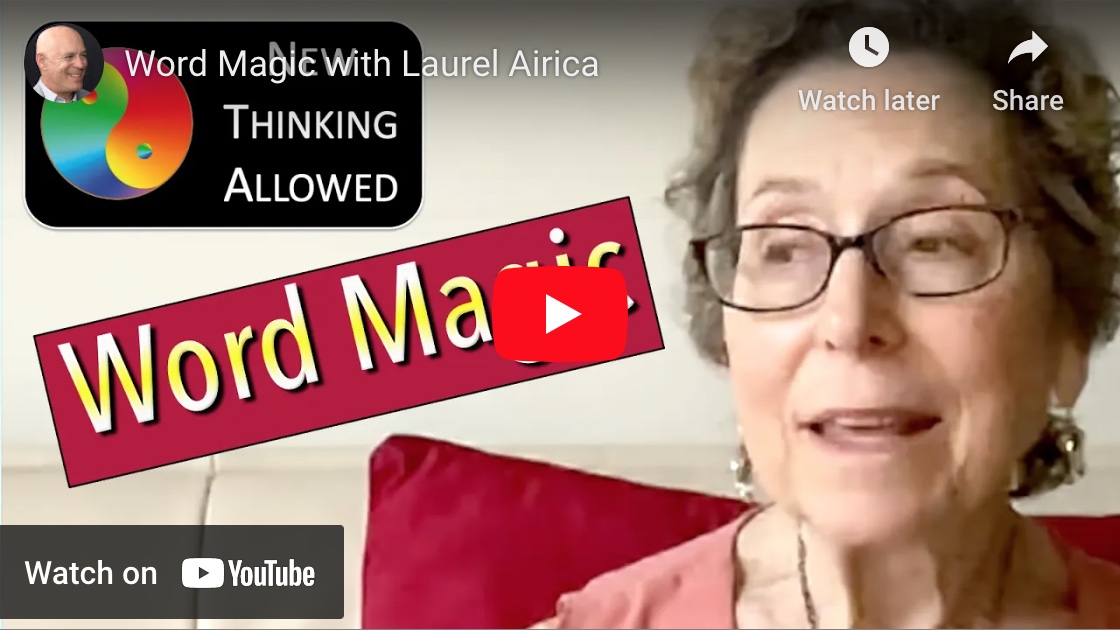 Consciousness
,
Intention
,
Kindness
,
Language
,
Linguist
,
Magic
,
Play
,
Poems
,
Word Magic
,
Words
,
Writing
Word Magic
Wow! Laurel Airica sees many connections and associations between words. She truly is a joy and entertaining to listen to while she shares her rhythmic-rapping-poetry-style-prose. More than that, she will expand your consciousness without you even knowing it.
Laurel Airica is a Linguistic Evolutionary and Educational Entertainer. She is the creator of WordMagic – a way of playing with words that makes people smarter, wiser, kinder, and more literate. Laurel shows in verse and prose how young and old around the globe can collectively, creatively, and quite rapidly take command of the English language and upgrade it to facilitate our essential evolutionary leap from humankind to HumanKindness. She is author of, Horsing Around: The Inside Word on Marriage and Horses, WordMagic: WordPlay That Puts a New Spin on the Whirled and the Book of E: A Book of Alphabet Alchemy. Her website is laurelairica.com.
Laurel describes how we can self-awaken through wordplay. She plays with words that coexist with different concepts that are married through sounds, such as a homonym or pun. She has developed an intuitive "inner-standing" of how language echoes and reflects us. She suggests that the English language is the leading software of the western mind. However, words can be debilitating, confusing, and loaded with subliminal and contradictory messages. We can collectively and creatively upgrade language to support evolution in consciousness. Love turned around is the beginning of "evol-ution." When we know we're divine – "am-God" – backward of "dogma", it's more possible to believe we have supernatural capabilities.