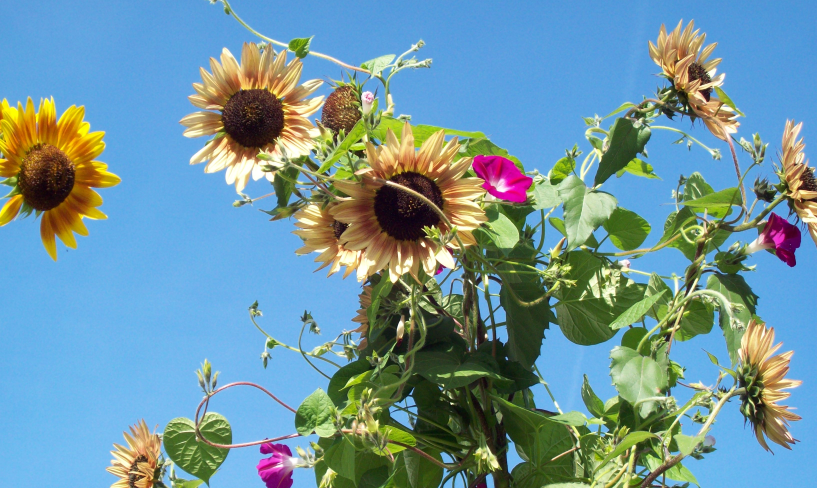 I have heard a lot about Prevention in the Affordable Care Act, also known as Obamacare. I wanted to find out just what was covered, and I have always felt that our health care system, including occupational therapists, could do a better job of helping people not become sick in the first place. In fact, prevention is what led me on the holistic journey in the first place.
Here is an article I recently wrote for ADVANCE Magazine for Occupational Therapy Practitioners. It was originally published on June 16, 2015. It discusses how OTs can be leaders in prevention and wellness, and it also highlights how our health care system is really "sick care." Health care would transform more quickly if we could find a way for the business of health to make money when people are well.
OTs as Leaders in Prevention & Wellness: Identifying Barriers and Helping patients Make Choices for Healthy Living.
By Emmy Vadnais, OTR/L
Prevention and wellness have come to the forefront of health care with the Affordable Care Act (ACA) of 2010, also known as Obamacare. The ACA created the National Prevention Council to oversee the government's prevention efforts. The law provided for a significant new investment in prevention and wellness, and appropriated $15 billion in a prevention and public health fund, to be disbursed over 10 years.1 However, in 2012 the fund was cut by $5 billion to help pay for other initiatives, and was targeted for cuts or elimination.2 
The United States health care system has largely been "sick care" focused. To receive ongoing care, a person needs to have received a diagnosis, after there is already something "wrong" with them. This can lead to chronic disease, disability, and death.
Treating people with chronic diseases accounts for 86% of our nation's health care costs.3 It is estimated that 75% of illnesses and chronic conditions could have been prevented through lifestyle changes. Comprehensive lifestyle changes can often reverse their progression.4
A chronic disease is a disease that lasts three months or more, and they are responsible for 7 out of 10 deaths each year. They generally cannot be prevented by vaccines or cured by medication, nor do they just disappear. Health-damaging behaviors — particularly tobacco use, lack of physical activity, and poor eating habits — are major contributors to the leading chronic diseases.5
Among the most common, costly, and preventable chronic conditions are heart disease, stroke, cancer, diabetes, obesity, and arthritis. Just as chronic diseases share many of the same causes, many of the same strategies and interventions can prevent them or lessen their severity.6
Prevention and Wellness

Much of what is considered prevention and is paid for through the ACA are screenings and assessments, also known as early detection. Early detection is helpful. However, it might be in everyone's best interest to assist people with wellness and prevention before there is detection of disease. As the wise adage states, "An ounce of prevention is worth a pound of cure."
Several definitions or descriptions of prevention and wellness exist. According to ObamaCareFacts.com, "Preventive care focuses on evaluating your current health status when you are symptom free. Preventive care allows you to obtain early diagnosis and treatment, to help avoid more serious health problems. Through a preventive exam and routine health screenings, your doctor can determine your current health status and detect early warning signs of more serious problems."7 A more broad and encompassing definition might be, "preventive services can help you avoid illness and improve your health."8
The National Wellness Institute describes wellness as an active process through which people become aware of, and make choices toward, a more successful existence. Wellness is a conscious, self-directed and evolving process of achieving full potential. Wellness is multidimensional and holistic, encompassing lifestyle and mental and spiritual well-being, including the environment. Wellness is positive and affirming.9
New Model of Health Care Needed
For people to be well and prevent disease, they need to make well-informed decisions, and may need support for them to eliminate barriers to healthy choices. This may require education, guidance, counseling, time, and a transformation of how health care is delivered.
Historically, a Chinese Medicine doctor was paid only when his patients were healthy. If the patient became sick, the doctor would not be paid until the patient was healthy again.10 This is very different from our current mainstream health care model.
The current model is primarily based on a business of people not being well. This is a conflict with a model of prevention and wellness. Perhaps prevention and wellness would flourish if there were financial incentives for people to stay well and have lower risks and incidents of chronic disease?
Lifestyle Is Not the Only Factor
The health of our foods, or lack thereof, can contribute to health or illness. The film "Fed Up" highlights the epidemic of how sugar and processed foods contribute to obesity and chronic diseases. Over 80% of the food items in grocery stores are processed foods that contain unhealthy hidden ingredients that contribute to illness and disease.11 Even though people may try to eat well, the food itself may not be.
Pain is the leading cause of disability and is the most common reason Americans access the health care system. There is a national epidemic of addiction to prescription pain medications. Of the 9.4 million Americans who take opioids for long-term pain, 2.1 million are estimated to be hooked and in danger of turning to the black market, and 4 out of 5 heroin addicts say they came to the drug from prescription painkillers.12
Recently, the Joint Commission issued a clarified standard for pain treatment that significantly elevates numerous nonpharmacological approaches, and drops pharmaceuticals down a notch. They called attention to holistic integrative approaches as valuable, such as acupuncture therapy, chiropractic therapy, massage therapy, osteopathy, and relaxation therapy.13
These themes from the food and pharmaceutical industries echo how the tobacco industry denied that there was any addictive or health consequences from their products — only to come out as true years later after so many lives had been adversely affected.
OTs as Leaders in Prevention and Wellness
Prevention, health, and wellness are approaches and outcomes within the OT scope of practice.14OTs can help identify barriers and educate people to make healthy choices. OTs can provide services designed to address the needs of a person with or without a disability. While it is beneficial for OTs to provide prevention in areas such as fall prevention and ergonomic support, there are many other areas where OTs can provide prevention and wellness care.
Stress is an underlying component in almost all illnesses. OTs can provide mental and emotional services. Psychoneuroimmunology is the study of how the mind can influence health or sickness via the nervous and immune systems. Teaching people relaxation skills and emotional regulation activities may be able to prevent illness and reverse disease. Mind-body healing can actually "switch on" or "switch off" gene activity or gene expression associated with disease.15
OTs can provide holistic integrative care that can reduce pain, anxiety, stress, depression, PTSD, and other symptoms that can likely prevent diseases. Relaxation techniques, meditation, yoga, art therapy, music therapy, healthy diet and nutrition, and many other approaches could be implemented to maintain health and wellness.
OTs can provide workplace wellness within companies and organizations and create wellness programs. Engaging in wellness within the workplace can improve employee satisfaction, productivity, and the bottom line.16
Wendy C. Hildenbrand, MPH, OTR/L, FAOTA, and Amy Jo Lamb, OTD, OTR/L, FAOTA, state in their article "Occupational Therapy in Prevention and Wellness: Retaining Relevance in a New Health Care World," "As we stretch our professional reach, we must cultivate new relationships with new practice partners. Many prevention initiatives are possible when occupational therapy professionals extend beyond familiar rehabilitation disciplines or health service institutions to engage in interprofessional collaboration with government agencies at all levels and with private-sector organizations, charitable groups, and community- and faith-based agencies. Many of the organizations represent sectors very different from traditional health venues, yet all have a vested interest in ensuring a healthier United States."17
Hildebrand and Lamb recognize that OTs generally filter new practice venues and innovative practice ideas through one question: How will we get paid? While this is understandable, they suggest that reliance on the reimbursement mindset and restrictive fee-for-service payment options limits OTs' abilities to contribute potential through unfamiliar payment arrangements or atypical delivery contexts.
There are many ways that OTs can provide prevention and wellness. Where else do you think OTs can influence prevention and wellness? What areas of training will you receive or education will you provide to offer prevention and wellness care? How will you help prevent disease and promote wellness?
Photo courtesy Emmy Vadnais
References
1. Preston, CM, Alexander M. 2010. Prev Med Public Health. Prevention in the United States Affordable Care Act.Nov;43(6):455-8. doi: 10.3961/jpmph.2010.43.6.455.
2. The Prevention and Public Health Fund. Retrieved from www.healthaffairs.org/healthpolicybriefs/brief.php?brief_id=63
3. Chronic Disease Prevention and Health Promotion. Retrieved from www.cdc.gov/chronicdisease/
4. Change Your Lifestyle, Reverse Your Diseases. Retrieved from www.cnn.com/2013/03/16/opinion/ornish-health-lifystyle/
5. Definition of Chronic Disease. Retrieved from www.medicinenet.com/script/main/art.asp?articlekey=33490
6. National Center for Chronic Disease Prevention and Health Promotion, Center for Disease Control. Preventing Chronic Disease: Eliminating the Leading Preventable Causes of Premature Death and Disability in the United States [PDF document]. Retrieved from CDC website: www.cdc.gov/chronicdisease/pdf/preventing-chronic-disease-508.pdf
7. Obamacare Preventive Care. Retrieved from http://obamacarefacts.com/obamacare-preventive-care/
8. Preventive Care. Retrieved from www.hhs.gov/healthcare/rights/preventive-care/
9. Definition of wellness. Retrieved from www.nationalwellness.org/?page=Six_Dimensions
10. Chinese Medicine. Retrieved from http://seqclinic.com/chinese_medicine.html
11. Couric, K. & Souchtig, S. (Producer), & Souchtig, S. (Director). (2014). Fed Up [Motion picture]. United States: Atlas Films.
12. Calabresi, M. (2015, June). The Price of Relief: Why America Can't Kick Its Painkiller Problem. TIME Magazine, 128(22), 26 – 23
13. The Joint Commission Moves Integrative Approach Ahead of Pharmaceuticals for Pain Management . plus more. Retrieved from www.scribd.com/doc/262488891/The-Joint Commission-Moves-Integrative-Approach-Ahead-of-Pharmaceuticals-for-Pain-Management-plus-more
14. American Occupational Therapy Association. (2014). Occupational Therapy Practice framework: Domain and process (3rd Ed.). American Journal of Occupational Therapy, 68(139). doi:10.5014/ajot.2014.682005
15. Vadnais, E. (2013, April). The Power of the Mind in Healing. Relaxation Can Positively Affect Our Physical, Mental, Emotional, and Spiritual Health All the Way to the Genetic Level. ADVANCE Magazine for Occupational Therapy Practitioners. Retrieved from http://occupational-therapy.advanceweb.com/columns/holistic-ot/the-power-of-the-mind-in-healing-2.aspx
16. Huffington, A. (2013, March). Mindfulness, Meditation, Wellness and Their Connection to Corporate America's Bottom Line. The Huffington Post, ReWork: Rethinking Work and Well-being. Retrieved from http://www.huffingtonpost.com/arianna-huffington/corporate-wellness_b_2903222.html
17. Hildenbrand. W. & Lamb, A. (2013). Occupational Therapy in Prevention & Wellness: Retaining Relevance in a New Health Care World. American Journal of Occupational Therapy, 67, 266-271.
doi: http://ajot.aota.org/Article.aspx?articleid=1851676
Emmy Vadnais is a holistic occupational therapist, teacher, writer, and consultant. She provides holistic mind, body, spirit healing, prevention and wellness services and education to children, adults and health care practitioners. Contact e[email protected], www.emmyvadnais.com, or www.HolisticOT.org.