Staying Healthy with the Seasons – Late Summer
Late Summer is the time of transition between Summer and Autumn. It has its own season in Chinese 5 Element Theory and it relates to the energy of the Earth. All other Elements come from and can be felt in the Earth Element. So, it is very important to be aware of how your Earth Element is functioning for you.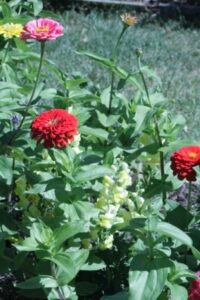 Home, Center, and The Body are aspects governed by the Earth Element. If you do not feel at home with yourself, at ease, centered, grounded, or have difficulty taking in nourishment from food and drink, or from life itself you may want to consider looking at ways to balance your Earth Element. Being able to be and feel nourished demonstrates a more balanced and harmonious Earth Element.
This time of year the Earth Element is evident with the abundance of the bounty and harvest all around us. The Stomach and Spleen, and their energy are the internal organs that correspond to Late Summer and the Earth Element. Their meridians may indicate how your Earth Element is functioning.
Questions to Reflect Upon
What tastes sweet in your life/goals?
Is it time for the harvest or do you need to let things develop a little longer?
Do you need more steam for your goals, or is fog hampering your progress?
What can you let go of to allow you to have more personal power in your life?
Do you need more power/movement or do you need stillness and patience?
Finding your Center
Finding a way to center oneself is one of the greatest gifts you can give yourself. Everyone finds his or her way with how to become centered. Being centered is being in contact with yourself and grounded to the Earth and aligned with the Heavens.
Relaxation is key to centering. Once you are more practiced at it, you can call it up more readily. Being able to lower the logical, thinking, planning, worrying mind can assist you to connect with your more naturally intuitive mind that is happy to just be.
Here is a wonderful QiGong Meditation that will assist you to connect with your Center.
References:
"Touch for Health: A Practical Guide to Natural Health with Acupressure Touch" by John Thie, DC and Matthew Thie, M.Ed
"Staying Health with the Seasons" by Elson M. Haas, MD
"Traditional Acupuncture: The Law of Five Elements" by Dianne M. Connelly, Ph.D.