Holistic Healing Certificate Program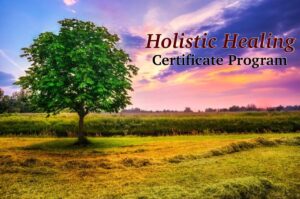 The Holistic Healing Certificate Program is designed to give you a strong theoretical and practical foundation in integrative health, wellness, and prevention. The program is about one year to complete. Courses available in person in St. Paul, MN and Distant Learning.
Instructor: Emmy Vadnais, OTR/L
Go Here to register for the FREE Holistic Healing Certificate Program Info Session on September 15, 2018 at 1:00 p.m. Central Time via teleconference.
The Holistic Healing Certificate Program will give you a strong experience and skills in integrative health, wellness and prevention.
These courses are available to Health Care Professionals and anyone who wants to learn these techniques for their own self-care and personal development or to help others. These courses will enhance any Health Care Professionals skills who would like to bring a Mind-Body-Spirit, Prevention, and Wellness approach to Healing. Excellent for Occupational Therapists, Physical Therapists, Speech Therapists, Nurses, Physicians, Mental Health Practitioners, Massage Therapists, Yoga Practitioners, and any one caring for others.
First Year – Foundations of Mind-Body-Spirit Healing Classes:
1. The Power of the Mind in Healing: Foundations in Integrative Health
You will Learn:
Mind, Body, Spirit Medicine, Prevention and Wellness Research and how it is Increasingly Being Integrated in to Health Care Settings.
The Relaxation Response has been shown to positively affect gene expression, which when practiced regularly, may prevent disease and improve healing outcomes.
How Meditation and Relaxation Techniques can assist with countering negative thoughts, emotional regulation, improve attention, and assist with organizing thoughts to carry out activities of daily living.
How Intuition can Assist you in Areas of Your Life: Personal Insight & Transformation, Relationships, Career, Health, & Spirituality.
       18 Hours, $399
2. Energy Healing: Auras, Chakras, & Meridians 
You will learn:
The Human Energy System of the Aura, Chakras, and Meridians (Energy Pathways).
How each Energetic Pathway affects each Organ System and your Physical, Emotional, Mental, and Spiritual Well-Being.
How the 5 Element Theory can Balance and Align the Energy System for Stress Reduction, Lowering Physical and Emotional Pain.
Practice Assessing and Aligning the Chakras – Main Energy Centers for Prevention, Wellness, and Recovery
Discover How to stay Healthy with Each Season and Positively impact your Health and Well-Being.
18 Hours, $399
3. Guided Meditation: Imagery and Healing
You will learn:
The fundamentals of the Mind-Body-Spirit connection
The Power of Self-Healing
Foundational Guided Imagery Techniques
How to guide a client to access their own Inner Wisdom
How to assist a client to enter in to the 'Relaxation Response'
How to assist a client to understand what may be behind a physical or mental illness and what may be needed to transform it.
        18 Hours, $399
4. Interactive Mindfulness: Emotion and Healing

You will Learn:
How to assist Clients with their Emotions
How to assist a Client Dialogue with their Body; Physical and Emotional Pain
How to utilize Deep Mindfulness to transform Negative Emotions and Physical Pain
How the Higher Self, Intuition, Self Love, Self Acceptance are Powerful Healers
How to Release the Negative and Expand the Positive
        18 Hours, $399
First Four Classes: 72 Hours, $1,596
Class will meet once a month for 3 Hours each meeting for 12 Consecutive Months for Holistic Healing Practice.
You will receive practice guiding others in Meditation, Relaxation, Imagery, Emotional & Physical Healing, and Energy Healing.
Intakes, Assessments, Referrals, and Documentation will be integrated in to practice sessions.
A Reflection Paper, Practical Exam and 12 sessions documented outside of class will be submitted to receive Certification.
Putting it into Practice: 15 Hours, $375
Program begins in the Fall.
Continuing Education
Health Care Professionals will receive a Certificate of Completion that may be submitted to your professional board for professional development credits. A completed course evaluation is required within 30 days after taking the class to receive a Certificate of Completion. These courses meets the NBCOT requirement as a Professional Development Activity PDU ID #14.
Distant Learning
Distant Learning will meet via the internet. You must have a working computer web cam, microphone, speakers, and the latest version of Skype and Java downloaded on your computer. These can be downloaded from the internet for free, simply by Googling "Skype" and "Java" and following download instructions.
Class Policy
Payment is due in full one week before the start of class. Refunds will not be given after the first class. You must attend each class to receive a Certificate of Completion. If you miss one class you will need to make it up with Emmy based on an hourly rate. If you miss more than one class in a series you will need to retake the entire level. Full refunds will be given if the entire class is cancelled by the instructor. Complaints can be handled with Emmy Vadnais, OTR/L.