Intuitive Development Class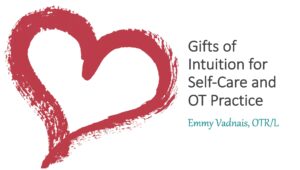 Gifts of Intuition for Self-Care and OT Practice
Instructor: Emmy Vadnais, OTR/L
Dates: January 22, 2022
10:00 – 11:30 a.m. Central Time
Location: Zoom Live Video
CEU: 1.5
Price: $29
Register Here
Emmy Vadnais will provide education about intuitive development, and how it may enhance OT practice and the OT practitioner's self-care. Emmy will guide you into a deeper understanding of the benefits of your intuition–inner knowing to facilitate optimal health, wellness, and prevention for you and your clients. Emmy will provide efficacy-based research that may enhance the OT practitioner's self-care and facilitate client's improved ADL and occupational performance outcome. Emmy will demonstrate how intuition, health, and spirituality have the ability to work and play together to enhance one another for improved meaning and purpose in life.
Learning Objectives
Describe the definition of intuition and why it can enhance OT practice.
Understand five benefits and efficacy-based research about how intuition can enhance health, wellness and prevention within the context of OT practice.
Practice three intuitive skills that may enhance OT practice, self-care, and prevent or recover from burnout.
Incorporate three intuitive skills into client sessions that may improve occupational performance, mind-body-spirit health, wellness, and prevention and client outcomes.
---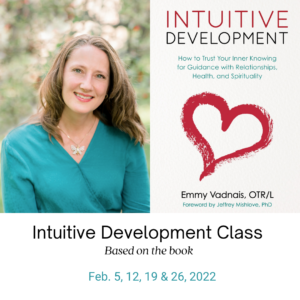 Intuitive Development Class
Instructor: Emmy Vadnais, OTR/L
Dates: 4-week class, Feb. 5, 12, 19 & 26, 2022
10:00 – 11:30 a.m. Central Time
Location: Zoom Live Video
Price: $99
Register Here
Follow along with each chapter as Emmy guides you through the information and exercises in her Intuitive Development book. This book is required reading for this class. Learn to trust your intuition to enhance all areas of your life.
(There are currently no CEUs available for this course. If you would like to learn how to apply these approaches in a health care setting see the Holistic Healing Certificate Program.)
Trust and Confidence with Intuition Class
Instructor: Emmy Vadnais, OTR/L
Recording – 3 hours
Price: $59
Register Here
Would you like to feel more connected to your heart and able to listen to your soul?
Please read Intuitive Development: How to Trust Your Inner Knowing for Guidance with Relationships, Health, and Spirituality (at least through chapter 9) and create the intuitive development cards on pages 121 – 122 (make at least 20 cards) prior to the class. 
Learn:
How intuition can help you to make the best decisions in your life
What intuition is and why intuition is important
How you may perceive intuition
Ways to connect with intuition
Meditations to access and strengthen your intuition
How to gain confidence & trust your intuition
Discerning emotions & intuition
Connect more deeply with your heart, intuition, spirituality, and soul
Experience peaceful meditations that will quiet the mind and connect you to your soul
Find peace within with guidance and direction in your life
Live with more meaning, purpose, and fulfillment
Feel more connection, peace, joy and love
(There are currently no CEUs available for this course. If you would like to learn how to apply these approaches in a health care clinical setting see the Holistic Healing Certificate Program.)